Are you looking for best carry-on garment bag with wheels?
Then, you are at the right place.
We are hearing a lot about the discussions going on for selecting the best carry on luggage for suits and garment bag that comes with wheels from our regular readers.
So, we decided to take a survey in which we asked our readers and our followers to let us know about their choice.
And luckily…
We got an enormously positive response.
So, here in this post, we have compiled a list of best rolling carry on garment bags for 2017 that you can find on the market right now.
17 Best Carry On Garment Bag with Wheels for 2018
#1. Briggs & Riley Baseline Domestic Carry-On Expandable Upright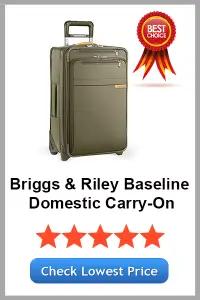 We consider it the best of all because of its craftsmanship. You can see the appealing look of this bag and can fall in love easily with it.
You can say that its cost is a little bit higher than usual but believe us, it is worth it. If you are one hell of a serious traveler then you will not regret buying this bag.
Highlighted Features:
Size is perfect 22 x 14 x 9 inches
It is covered under the lifetime warranty
Your clothes can easily survive without any damage and wrinkles.
It is not heavy as it looks in the photo.

#2. Travelpro Crew 10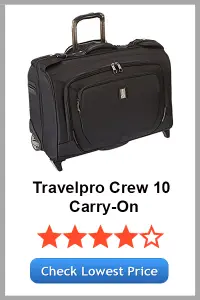 Travelpro is one of our favorite brands. It makes the things possible that no other can ever do. Its size is common to airlines in the United States. But in reality, the bag is bigger than it sounds and in many cases, this can be annoying.
This was one of the reasons why we couldn't throw it at the top of this list. But for most people, it may not be a deal breaker. The weight of Travelpro Crew 10 is 10lbs and is heavier if we compare it to other bags in its range.
But don't worry that's what wheels are given for. You can easily travel with this bag. But due to a slightly bigger frame of the bag. Sometimes you have to squeeze the bag a little bit to fit it in the desired area.
Highlighted Features:
Dimensions: 22 x 15.5 x 9 inches
Weight: 10 lbs
Wide Framework

#3. Samsonite Luggage Lift Carry On Wheeled Garment Bag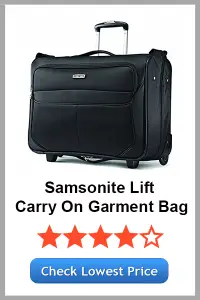 Samsonite makes amazing products and this is same as this garment bag. It is constructed of 100% nylon and is very durable.
You can check out the lots of positive reviews and ratings that it has received worldwide on the internet.
Fabric lining on the cloth of the bag makes it look damn attractive. It was one of the best selling wheel garment bags on the Amazon. There are many advantages of having this bag but compatibility with the airlines' rules is not one of them.
One of the main reason is the weight. So before flying around anywhere in the corner of the earth, make sure that it complies with the luggage policies of that airlines and country.
Highlighted Features:
100% Nylon
Dimensions: 21 x 17 x 9 inches
Weight: 8.5lbs

#4. Tumi Alpha 2 Carry-On 4 Wheel Garment Bag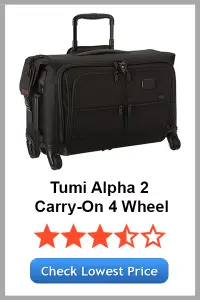 This is one of the best premium wheeled garment bags that you can find on the market. Don't turn away from it by just looking at its price. It has a lot to offer.
It is stitched up top to bottom from ballistic nylon. The size of the bag is half an inch more than the normal ie 22x14x9 inches. It has four smooth-rolling wheels so you can say it is very easy to carry around.
The other thing you can see that it has a premium and rich looks. You can confirm it by just taking a glimpse of it. Also, if you have something important that you want to access immediately when necessary.
Then it comes with one large zipper pocket and two U-shaped zipper pocket on the front of it. This can be quite useful in many cases.
Briefly, if you are a business person or the type of person who rides airplane very frequently then blindly you can go with this bag.
Highlighted Features:
Ballistic Nylon
Dimension: 22.1 x 9.1 x 14.6 inches
Weight: 11 lbs 12 oz

#5. Travelpro Maxlite 4 carry-on garment bag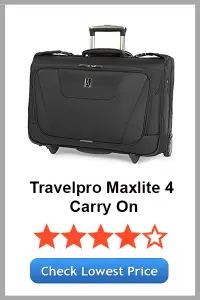 If you are our regular reader, you may know that we recently reviewed Travelpro Maxlite 4. It comes in 9 different variants, so select the garment bag.
There are two variants: Rolling Carry-On Garment Bag and Bi-Fold Non-Hanging Garment Bag.
Both bags are made up of 100% polyester. As like all the other bags it has the fabric lining. Both side inside and outside has a water-repellent coating.
Just like most of the bags this bag is covered by Travelpro lifetime limited warranty. One of the major benefits of buying this bag is that it is often under heavy discounts and can be very budget friendly.
Highlighted Features:
100% Polyester
Exterior Pockets
Travelpro Lifetime Warranty
Adjustable Strap and Handle

#6. Samsonite Silhouette Sphere 2 Softside Deluxe Voyager Garment Bag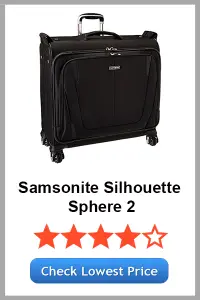 It features split spinner wheels which can adjust to almost any terrain. Just like Samsonite lift, it is also made up of 100% nylon.
The fabric lining makes the bag shine so bright that it looks absolutely amazing. The four wheels mounted at the bottom of the bag makes it very easy to carry around.
It is textured TPR coated, gel-infused, push-button locking handle provides a comfortable grip. Also, it is in the top 30 bestselling garment bags on Amazon.

#7. Briggs & Riley Baseline Luggage Compact Tri-Fold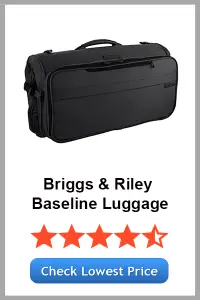 Now coming towards the bag which does not have wheels and is ideal for carrying around & are compact in size. Here in this department, we loved the Briggs & Riley product as earlier.
It is a very lightweight garment bag which can easily accommodate 5 suits easily. Quality and choice of the material is top-notch as always and comes with lifetime warranty.
The only thing that can bother some people is its price. It is not very expensive but for sure it is out of the normal budget line.

#8. Mercury Luggage Executive Series Tri-Fold Garment Bag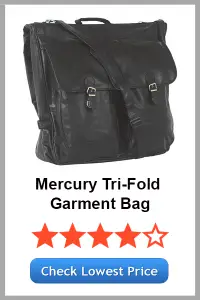 If you cannot afford the previous garment bag and you are more of a budget person then believe us this one is for you. You can consider it as the best tri-fold garment bags in the budget line.
Due to its affordability and high quality, combined it has more than 92% of satisfaction rate, which is very rare these days.
The bag is made up of nylon and polyester. The weight of the bag is approximately around 5 lbs and is 14 inches high. If you are an occasional traveler then you can't go wrong with this garment bag.
For a bag this budget-friendly, you can't question the durability and quality of the product. You will just have to take care of it properly so it doesn't wear and tear fast.
Highlighted Features:
Nylon/Polyester
Dimension: 45 x 22.25 x 2.75 inches
Weight: 5 lbs

#9. A. Saks Deluxe Expandable Tri-Fold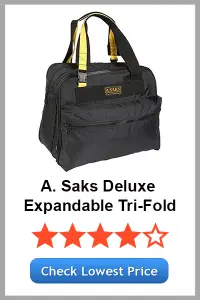 From the image, you can see how simple this bag is organized. And this was one of the things that caught our eyes.
You can just put your clothes and strap the bag and you are ready to go. Nothing like packing is necessary. Believe us this can be your getaway bag in the zombies' apocalypse. 😛
So always keep it lock and loaded.
Highlighted Features:
Nylon/Polyester
Dimension: 22 x 14 x 8.5 inches
Weight: 5 lbs

#10. Tumi Alpha 2 Tri-Fold Carry-on Garment Bag Review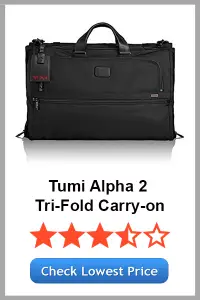 Tumi and Briggs & Riley are similar in many ways if you check both of them side by side. It is an expensive bag just like their previous one.
But you can be assured of the quality of the material and the service after the purchase if anything ever happened to your bag. This is something you should look out for if you are a person that travels a lot because traveling a lot can cause wear and tear easily.
The one thing that you will love about Tumi Alpha 2 Tri-Fold bag is the weight. It is just 3.75 lbs and is extremely portable.
Highlighted Features:
Nylon/ Polyester
Dimension: 23 x 16.5 x 6.5 inches
Weight: 3.75 lbs

#11. U.S. Traveler Ballistic Nylon Tri-fold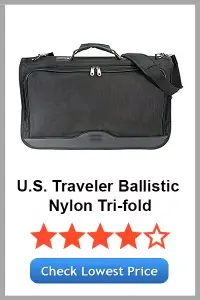 Now coming towards the end of tri-fold garment bags, this is our last choice that you can't go wrong with. This is the father of budget bags. You will be surprised to check out the price of this bag.
This bag is for those who are not into traveling on regular basis. However, due to very low price, durability may remain a question. But who cares when you are getting it at the 1/6th of the regular price of premium garment bags.
Highlighted Features:
Nylon/ Polyester
Dimension: 22″ x 13.5″ x 3″
Weight: 4 lbs

#12. U.S. Traveler Koskin Leather 2-in-1 Carry-on Garment Duffel Bag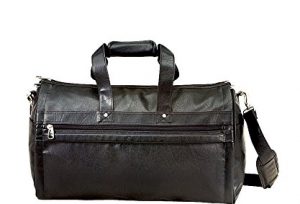 Now coming on to the duffel bags. If you are a person who loves the leather product, then you are at the right place. U.S. Traveler Koshkin garment bag is made from leather with the shiny and attractive design.
The overall look of the product is eye-catching but when you look at it closely you can see the cheap quality of material used. But this is not the manufacturers' fault because the price is pretty low.
Many customers have reported the problems with the zippers but this is not something you should be concerned about because we haven't found any evidence of this issues.
Highlighted Features:
Dimension: 21.5 x 13 x 9.8 inch
Weight: 4 lbs

#13. Code Alpha Hybrid Garment Duffel Bag Review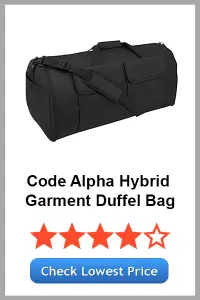 When you take a look at Code Alpha Hybrid bag, you can see that it bears a very simple and unique design.
Many of the people look for something simple in their garment bags and love them. Similar to the other duffle bags it rolls over and wrapped to make it a duffle bag.
It is 24 inches long and can easily accommodate your belonging for a week travel. Also, it weighs barely 4.4 lbs which are normal if you consider it's size. Extra pockets at the sides of the bag will help you to manage some of the things you frequently use.
Pro Tip: This bag looks so simple that if you are having a million dollar in it. No one will ever find out. Best for transferring cash from one place to other. 😛
Highlighted Features:
Dimension: 24 x 15 x 5 inches
Weight: 4.4 lbs

#14. Weekend Bag Company – Duffel +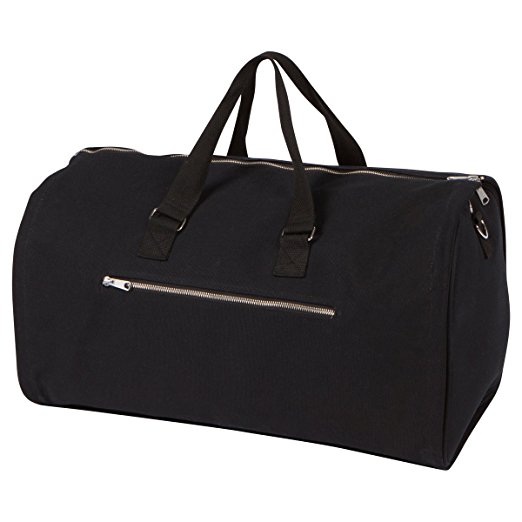 If you are the one who falls in love easily with the black color then this is the one hell of a duffle garment bag for you. It's slick and pretty design says it all. Extra zipper at the side of the bag will provide your extra space to put things.
The material used in the bag is strong canvas. However, we are not quite sure that how it will tackle the time. The straps on the bag seem okay. We think that this can be strengthed more if they want to.
Highlighted Features:
Dimension: 24 x 14 x 12 inches
Weight: 3 lbs

#15. Hook and Albert Men's Canvas and Leather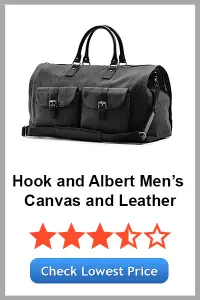 Hey there, are you up for a classy looking bag. Hook and Albert Men's Canvas and Leather is one hell of a stylish bag but beware that this style comes with a higher price tag.
Also, you can select from wide range of colors. This is not the case with most of the garment bags that we have seen earlier. Let us know what you think about the price and style ratio for this bag.
Highlighted Features:
Weight: 5.6 lbs
Dimension: 22 x 13 x 10 inches

#16. Henty Wingman Two-Piece Travel and Suit Bag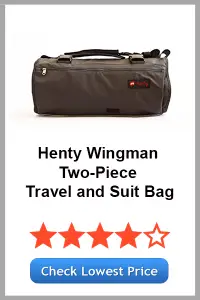 This is the first garment bag that we have discussed here that is made up of Tarpaulin that wraps around. The bag is very compact and can fit into the rules for any airlines.
It is well made and frankly very durable. You can wear it using a single strap to your shoulder.
The other cylindrical bag that is inside this bag can be used on its own if you ever want it to. Isn't that amazing?
Highlighted Features:
Dimension: 22 x 8.7 x 9.8 inches
Weight: 4 lbs

#17.U.S. Traveler Lightweight 21 in. Carry-on Garment Bag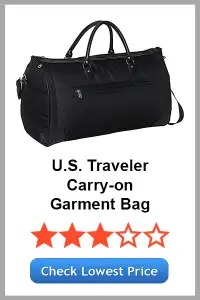 Yet it is another wrap-around garment bag that we have mentioned on the list. It is made up of polyester. Hence, it is cheap and you have to make it packed using the zips.
Otherwise, your clothes will spread out in the middle of the market and that doesn't look good in public.
Highlighted Features:
Dimension: 22 x 11 x 9 inches
Weight: 5.8 lbs

Final Thoughts on Best Carry On Garment Bag with Wheels:
If you are traveling for some formal and special occasion, then the first thing that comes to your mind is that whether the clothes will be as it is as was before packing(pressed). The normal bags can't do that, but the garment bags can.
So these were our best picks for the garment bags. This list is not in kind of any order. So you can pick any one of them and you are ready to roll for your trip.
Summary
Reviewer
Review Date
Reviewed Item
Best Carry on Garment Bags
Author Rating