Security is always the first concern in whatever thing we are doing.
Isn't it?
So, while traveling it is mandatory to secure your luggage and prevent any other person from accessing your luggage.
Because apart from clothes and other things we do carry valuable things like money, documents, electronic devices like laptops, camera, and many other things. So using best luggage locks is the feasible option while traveling.
Also, you might know that airport luggage theft is getting common these days. Luggage locks are not something that can't be broken.
But, it will slow down the process of breaking into your belongings. Also, luggage with locks on it tends to attract a lower number of thieves as most of them prefer to snatch the luggage that is lock-free.
So, here in this article, we are going to share our picks for good luggage locks you should use while traveling in 2017.
Best Luggage Locks for Travellers
#1. Master Lock 4688D

Master Lock 4688D is very easy to use and is available at a very low price. Also, you will be able to lock almost any items with it because the lock wire is very flexible.
There are over 2500 reviews of this lock and is bestselling on Amazon. It is also TSA approved. It has 30mm wide metal durable body 3mm diameter of the shackle and 38mm long. There are 4 different colors available for this lock. Check it out now!
Pros
Low Price
Best Seller
Durability

 #2. Kolumbo TSA Lock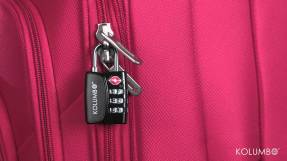 One of the favorite thing aboutKolumbo TSA Lock is that it is a pure piece of hard metal unlike the other flexible kind of locks. It is very hard to break it and impossible without making any noise.
It is TSA approved and can be very useful while leaving your bag for a while on airports. The easy process to lock and unlock this lock is the thing that you will love the most aboutKolumbo TSA Lock.
The construction of the lock is sweet and solid. It may look large in the image above, but in reality, it is very compact, light-weight and easy to carry around. It has three digit lock combination which means 999 different combinations and should be quite secure for your need.

 #3. Lewis N. Clark TSA Key Card Lock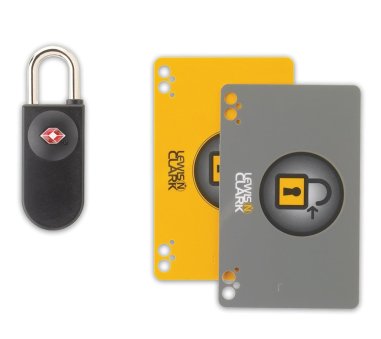 From the image, you can say that it looks amazing and also very interesting. You might be wondering that how it works, Let us explain how.
It consists of two parts. One is the lock, and other is the key card. The concept of the lock is that you can unlock it by inserting the card into the bottom of the lock to unlock it.
The major thing that we liked about Lewis N. Clark TSA Key Card Lock is that you will not have to worry about the key anymore. You can simply put your key card in your pocket or wallet along with the money and your credit cards and will be very easy to keep track of.
Also, there are two variants of this key cards it available, one is small, and the other one is around the size of a credit card. So it's now your turn to check them out!
Cons
Not Suitable For Everyone

 #4.Tarriss TSA Lock with search alert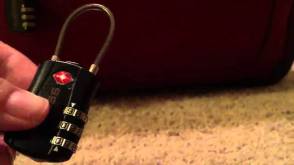 Similar to the Master Lock 4688D, Tarriss TSA Lock is a strong lock that can provide your luggage additional security. It comes with a lifetime warranty, so you will not have to worry about the quality of the material that is used in this lock. The lock is quite flexible and can be used to tie & lock almost anything you want. Also, the quality is very good and can resist tampering and wear/tear.
Like all other locks, it comes with a three-digit combination lock and can easily be locked and unlocked on to go. (You will have to know combination, of course, :P )
Cons
May not tie up big luggage

#5. TSA Combination Lock
You can see that we are jumping from soft lock to hard lock, but we can say with confidence that these locks that we are mentioning are the best and one of a kind.
TSA Combination Lock is the compact and the hard lock and quite not that much flexible. The build of the product is solid and can withstand a great amount of tampering. It is TSA approved and the material used is very sturdy. It comes with a combination lock of three digits as all the locks that we have mentioned earlier.

#6. TSA Approved Lock Heavy Duty Three Digit Combination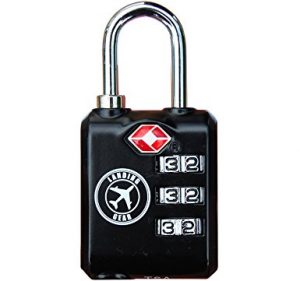 As the name suggests, this lock is also TSA approved, and heavy-duty suggests that it can withstand lots of force before it breaks. This lock is made up of the exceptional quality material, and you will like it once you get used to it.
The looks of the product are also pretty great. (At least we like it better) You will be glad to have this lock on your luggage and will surely help you to prevent theft on your belonging. This is one of the durable locks in the market and is the user ratings are very high for this lock.

 #7. Guardshire's TSA Approved Lock 2.0
You see that amazing box, Looks damn good right! But it's not just the looks. Guardshire's TSA Approved Lock 2.0 is one of the best luggage locks in the market that you can get your hands on. This lock is very durable, versatile and very easy to use. The lock cable is long enough to tie almost any of your luggage bag.
You will be glad to know that it comes with the money back guarantee if you are not satisfied with using the product.
Pros
Amazing Looks
Very Secure
#8. Brinks Solid Brass Luggage Lock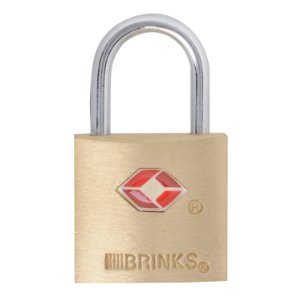 As the name glorifies that this lock is constructed from solid brass. It does come with lifetime warranty protection, so you won't have to worry more about this lock. As all the locks that we have mentioned here, this is also Travel Sentry Approved and Transportation Security Administration(TSA) Approved. Size is approximately 20mm.
The only thing that we find a little bit annoying is the size of the lock. It is quite okay, but if you are tieing up some big stuff, then we are afraid that you will have to go with another lock. But for us, it's not that of a deal breaker. But if it is then you can opt for this product.
Pros
Low Price
High Durability

#9. Lewis N. Clark TSA Lockdown Triple Security Cable Lock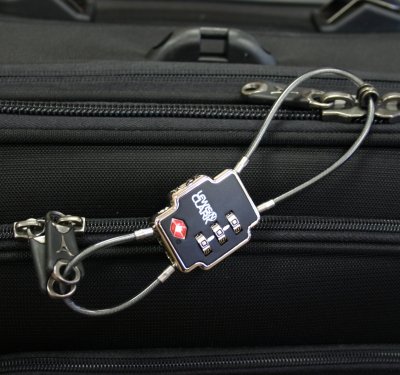 You can see from the picture that it has two cables to lock down your luggage bags and belongings. They are constructed from cast zinc along with the ABS plastic housing. You can see that one cable is long and the other one is short.
There are several uses and advantages of having dual lock cables. Kind of like the purpose of handcuffs. You can attach your luggage bags to any location or simply tie down the zipper to the handle of the bag or can attach multiple luggage bags.
Lewis N. Clark TSA Lockdown Triple Security Cable Lock can come quite handy in several situations so we would recommend you to get one of it right now!
Cons
High Price
Low Portability

#10. Eagle Creek TSA 3-Dial Lock and Cable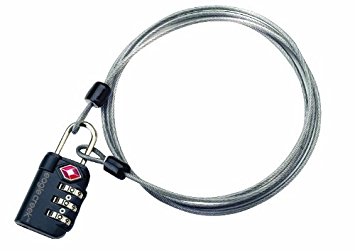 You can get a lock that can work two ways. One is just like a regular lock for your luggage, and another one is with the long wire so that you can tie things up if necessary. It comes with three-dial combination lock system.
The size of the item is 50 x 2.5 x 1.2. It also comes with lifetime warranty similar to the locks that we discussed earlier. This type of lock is not just for your luggage and bags but can be used almost anywhere with that bundled long cable.

#11. WordLock 4-Dial TSA Approved Luggage Lock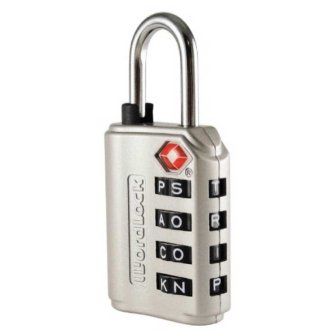 All of the above locks that we mentioned earlier had three-dial combination lock of numbers. But WordLock has four dials alphabetic combination lock. Seems interesting right? Well, it is, you can check out the photo.
WordLock is made up of solid metal and heavy duty. You can use your password to unlock the lock. This lock is also TSA approved, so you won't have to worry about security checkup at airports.

 #12. Master Lock 1530-DCM Combination Lock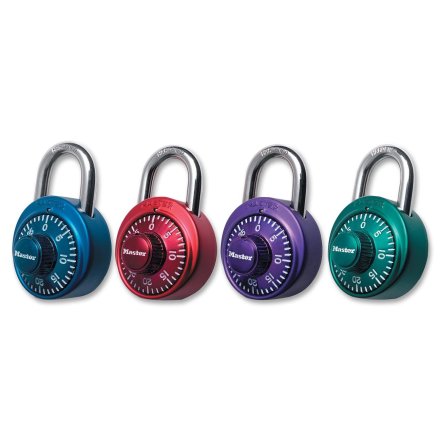 If you have found unique and traditional looking locks, then this one is for you. The looks of the lock are amazing with round combination lock just like you see in movies having highly secured vaults.
It is made up of hardened steel and can easily withstand pressure and torture. Also, you get to choose from various eyes catching colors to make it look elegant.

So that was all about the best luggage locks that you can use while traveling to make your belongings secure and prevent any theft. If you are still not convinced then you check out best anti-theft backpacks that you can carry while traveling.
If you have bought any of the locks that we mentioned earlier, then do let us know about your experience in the comment section below. Your review and comment will be quite useful for other users and will act as a buying guide for them.
Let us know if you are using locks that are not mentioned here. If it is working great for you, then we would love to add that in this lost so that users will have a wide range and variety to choose from.
Also Read: Best Passport Wallet/Holder for Safe Travel