Smart travelers always try to keep their luggage at the minimum weight.
And when you are traveling to the area where there may be occasional light rain, then instead of carrying a full-fledged rain protector, rain poncho will do the job just fine.
These best rain ponchos for hiking and traveling help you to get the amazing experience of the trips.
A good rain poncho can easily protect you from light showers and keep your upper half dry as well as can also prevent showers from hitting your lower half. Some of the best rain ponchos that are available in the market can also help you protect your backpack. And the best part of it is that they are quite handy and easy to carry.
Several Other Uses of a Rain Poncho
You might be surprised to know that rain ponchos can also be used for several other purposes than just protection from the light rain. Some of its other uses are a Rainproof tent, Floor tarp, Rain tarp, Carry bag, Medical stretcher, Water container etc. If you have used your rain poncho for any other use then do let us know in the comment section below.
Why should you have the best Rain Poncho for Traveling?
As we have mentioned earlier Rain Ponchos are lightweight and hence are easy to carry around. There are a wide variety of rain ponchos ranging from very cheap and affordable to very expensive ones. Let's check out some of the reasons that why should best rain poncho is the choice for traveling:
Durability: Rain ponchos are built of material that is usually very durable and resilient to any wear and tear. Hence they don't get damaged easily. As we mentioned earlier it can also be used as a medical stretcher in case of emergencies. It means that they can also handle lots of weight. Isn't that a great feature?
Weight: Since rain, ponchos are made up of lightweight than other types of rain protectors they are easy to carry around for the purpose of travel and hiking.
Water Resistance: Most of the Rain Ponchos have taped seams which prevent the water from getting in. Also, some of the Ponchos are hooded so that you can cover your head as well. They do come in different sizes so that you can pick one of them out as per required size.
So now continue reading on and we will help find you one of the good Rain Ponchos on the planet. We have created a list of Rain Ponchos, all of them are awesome, You will have to choose the one that you like the best.
7 Best Rain Ponchos for Travel in 2018
#1. Charles River Pacific Pacific Poncho Review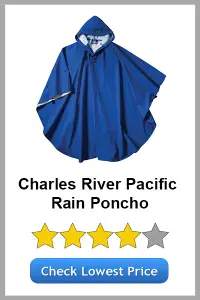 The Charles River Pacific Poncho is one of the best sellers in the market and there is a good reason behind it. Let's know why?
It comes in 16 different colors that you can choose from. And there are also 9 different sizes available. This makes it one of the best rain ponchos as per requirement of the customer.
According to the manufacturer, it is made from waterproof New Englander Polyurethane bonded to a knit backing. It has heat sealed seams and a hood for protection from wind and rain.
And is tall enough to cover almost your whole body and quite loose so you can walk around as well as move your body freely.
It only weighs around 1 lbs which means it can easily be tucked into your backpack without consuming much space and adding any unnecessary weight.
Highlighted Features: 
16 Color Variants
Durable
9 Different Sizes

#2. Frogg Toggs Ultra-Lite Poncho Review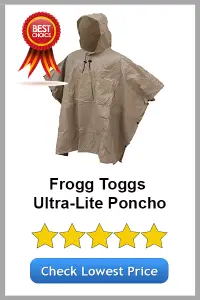 Similar to Charles River, it is also one of the top choices for Rain Ponchos and is not meant to be disposed of. Although it is cheaper than the previous one but offers high-quality material.
As per the specifications, it is 3 inches high and 7.5 inches wide. Adjustable hood is also available to cover your head from the wind and the rain that can be tightened when required.
It is built from waterproof non-woven polypropylene with welded waterproof seams. You will be glad to know that it is completely recyclable and hence environment-friendly. It only weighs 9 oz. There are three color variants available for this product.
Highlighted Features: 
3 inches high & 7.5 inches wide
Durable
9 oz

#3. Snugpak Patrol Poncho Review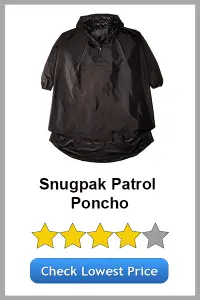 The Snugpak Patrol Poncho is a great choice for the people who are larger in size and can easily fit them. However price of this rain poncho is a little bit higher than the normal but we can't really complain about that.
Unlike other ponchos, this got sleeves which mean it is not really a poncho but does it matter as long as it protects you from the rain? :P
It is big enough to cover your body along with the big bulky backpack that you are wearing. As mentioned on Snugpak's website, in emergencies this poncho can also be used as Bivvi if needed. Also at the chest, a Velcro pocket is available which will help you store some things in need.
Highlighted Features: 
For Big Guys
With Sleeves
Velcro Pocket

#4. Mil-Tec Poncho Review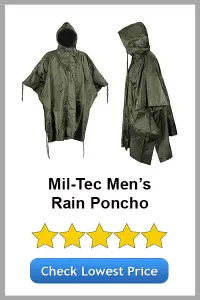 Mil-Tec is a reputed company whose products are generally manufactured in Germany and are of top-notch quality. I was surprised to see their Rain Poncho at this budget rate. It is very affordable.
So, if you are planning to carry any valuable electronics like laptop or mobile or camera in your backpack then Mil-Tec Poncho will make sure that they keep safe from water. It is made up of Waterproof ripstop nylon and has 6 brass eyelets and press studs.
It weighs approximately around 700 grams in the carry bag. Also, it can also be used as a ground sheet as well as sleeping bag cover. It is available in a single size which will be appropriate for most of the buyers and only one color i.e. military green is available.
Highlighted Features: 
Military Fibre
Highly Durable
700 grams

#5. JTENG Poncho Review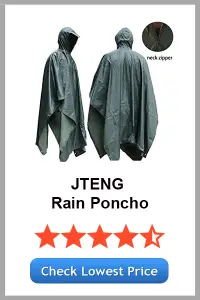 Are you looking for breathable lightweight rain ponchos?
You should look into this.
This is yet another military like Rain Poncho like Mil-Tec which is available in camouflage and green color. It is made up of 100% ripstop waterproof polyester and is very durable and lightweight. It also has a zipper around the neckline to fit the different neck sizes of different peoples.
It comes with a storage bag where the poncho can be tucked and stored. Also, it can also be used as an emergency shelter as well as a sleeping bag when required.
Also with the help of ropes, it can be converted to a mini tent for a single person. It almost protects you from rain as good as a raincoat.
It can be used while hiking, hunting, riding, fishing or any other such activities. if you are going for a picnic or something like that you can open it up to make 80 x 57cm mat. Sounds wonderful right?
Highlighted Features: 
100% ripstop polyester
Durable & Lightweight
Can be used as 80 x 57 cm mat

#6. 4ucycling Poncho Review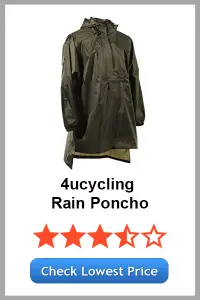 4ucycling Poncho is made up of 100% ripstop waterproof polyester material. The poncho is little longer on the rear so that you and your backpack keeps protected from heavy wind and rain. It seems more like a traditional raincoat.
The chest part is 59inch in length and adjustable head opening will allow the proper fitting. There is also a zipped pocket which can be used to keep things like phone during unwanted weather conditions. The color that is available is Army Green just like Mil-Tec Poncho.
4ucycling poncho weighs around 0.11 pounds and available in only one size. It is compatible with rainy season as well as winter season.
Highlighted Features: 
100% ripstop polyester
0.11 pounds
Single Size

#7. Stormtech PCX-1 Poncho Review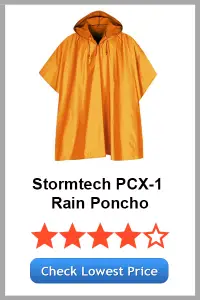 Stormtech Poncho is available in 5 different colors and is made up of 100% nylon. It does have an adjustable hood with drawcord to fit your face. A storage bag is included in the package.
It is 50 inches wide and 37 inches long, though it only weighs about 8.1 ounces. The material is used is pretty good and durable.
Highlighted Features: 
100% Nylon
8.1 Ounces
5 Different Colors

So that was our list of best rain ponchos for travel in 2018. Hope you found the one that you are looking for. If you are using any rain ponchos that I have not mentioned on the list but is awesome, then do let me know via the comment section so that I can add it to my list ASAP.